It is no secret that Vermont ranks again and again on the top of every list for seeing the best fall foliage in the country. With our rolling Green Mountains putting on their reds, yellows, oranges, and every shade in between; it truly is a stunning place to be. Want to explore the Fall Foliage in Ludlow, Vermont a bit differently this year? Go by Train!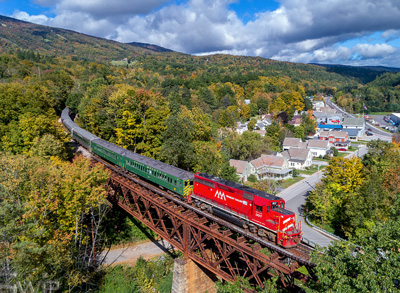 Once per day from September 20-October 20, a train takes a two-hour round trip from Chester, Vermont to Ludlow, Vermont. The route takes you through historic Vermont Villages, the famed Green Mountains, over bridges, and through the woods! You'll see fall foliage in a way that can't be seen any other way.
There are so many phenomenal ways to explore Vermont Fall Foliage in Ludlow, Vermont. Take a look at more activites and adventures you can have by visiting our Things to Do page. Want more information on the unique train ride? Keep reading below.
The History of the Green Mountain Railroad
"Today the VRS operates over 350 miles of track via the Green Mountain Railroad, Washington County Railroad Connecticut River Division, Washington County Railroad Montpelier & Barre Division, New York and Ogdensburg Railroad, Clarendon & Pittsford Railroad and the Vermont Railway. The company now has a family of over 150 dedicated railroaders. The VRS operates passenger services under the Green Mountain Railroad, running seasonal excursions and dinner trains. The VRS hauls over 25,000 freight cars each year, with nearly 90% of traffic serving Vermont businesses.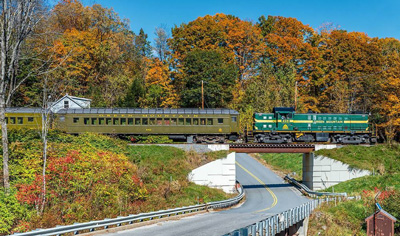 The company maintains interchanges with: Canadian Pacific, CSX Transportation, New England Central, Central Maine & Quebec, Pan Am Southern, Norfolk Southern, and Canadian National Railway (via NECR), and hosts Amtrak's Ethan Allen Express, which runs daily between Rutland, VT., and New York City. Their six interchange points allow customers to efficiently utilize a variety of rates and routes that best suit their individual needs.
​ The Vermont Rail System's newest innovation was made in early 2017 when they purchased two SD70m-2 Locomotives, No. 431 and No. 432. The highly efficient locomotives are the most modern in the VRS fleet. They have microprocessor-controlled features that will allow the VRS to move greater tonnage over its lines while using less fuel, ultimately making it more environmentally friendly.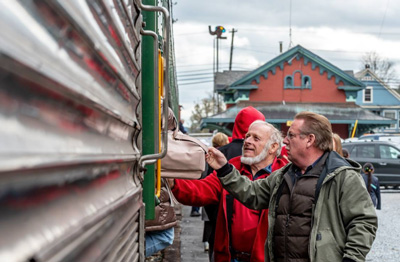 Their plans include extended passenger service to Burlington and numerous infrastructure upgrades in the future. With the same dedication to customer service it has had since its inception, the Vermont Rail System looks forward to expanding its customer base while they continue "Serving America's Industry with Pride."
Read more about the history of the Green Mountain Railroad here.